Working dogs with heart and power to get the job done.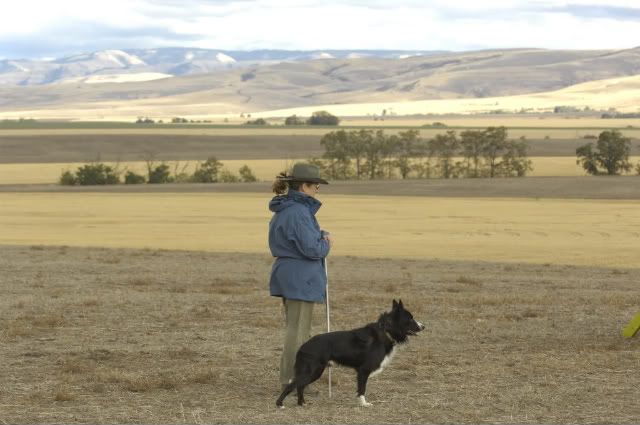 ~ Photo by Jeff Marroni, Marroni Photography at 2008 Western States Regional Championship, Pendleton OR ~
Steadfast Stockdogs is located in Eagle Point, Oregon and home to Elizabeth Baker, several working border collies, a flock of fine wool sheep (plus a few hairies) and a guard llama.
An animal lover from early childhood, I got my start with Border Collies by accident. I took in a Border Collie puppy, Megan, from an unknown ranch breeding shortly after I bought my first home. Meg was the worst possible choice for someone who worked full time....a very high energy stereotypical neurotic quirky border collie.
I owe a tremendous amount of credit to my first Open dog, Black. The lessons and the miles that he put under my belt, prepared me to bring my young dog, Rye, along and develop his incredible talent. Rye has been a dog of a lifetime and we have enjoyed successful competition in some of the most demanding and competitive trials in the West and numerous National Finals.
Rye's offspring are quickly stepping up to the plate and showing that they have the heart and talent to become my next generation of working dogs. He has made his stamp on not only his pups but grand pups (and now great grand pups!). Rye passed away in 2013 and will always be missed, but I'm fortunate to have a part of him with me in his offspring who continue to partner with me in work and competition.